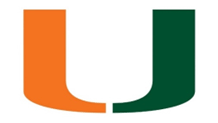 Welcome to the Math Boot Camp at the U
The University of Miami's Department of Mathematics is offering a virtual and in-person Math Boot Camp that will help build your math skills, prepare you for success in your first-year math course, and give you a strong foundation for the rest of your academic career. The Math Boot Camp for first-year students admitted for Fall 2023 will begin on June 20, 2023.
The virtual Math Boot Camp consists of online instructional videos, synchronous online instruction by UM Faculty, as well as individualized and group tutoring by UM Math Graduate Teaching Assistants. It will require at least a 50-hour commitment to active learning for 5 weeks over the summer, June 20 through July 21, 2023. It's important to note that this is not a course for credit and will not be counted toward your overall GPA. It is up to you to lean into this opportunity and do the work as assigned. Sign up today at apply.miami.edu/vmb23
Click here for the virtual Math Boot Camp schedule.
The in-person portion of the Math Boot Camp will take place just before 'Cane Kickoff Orientation, from August 12 to August 16, 2023, on our Coral Gables Campus. The on-campus program will include focused group and individualized instruction, led by UM Faculty and Teaching Assistants. This will provide you with the final preparations to get off to a great start to your first semester. You'll also have the opportunity to take a final attempt at ALEKS before classes begin. Please indicate your interest in this portion of the Boot Camp when you register for the virtual session. Note, you must participate in the virtual session if you want to attend the in-person session. Sign up today at apply.miami.edu/vmb23
Click here for the in-person Math Boot Camp schedule.
Do I need to attend the Math Boot Camp?
The Math Boot Camp will benefit any admitted first-year undergraduate student who would like to:
Prepare for success in their math course.
Review and improve their math skills.
Place into a higher-level math course by achieving a better score on the ALEKS Math Placement Assessment.
Any questions?
Contact: mathbootcamp@miami.edu